Cobscook Trails is a cooperative project of conservation organizations, landowners and community partners who seek to expand opportunities for nature-based recreation and tourism in eastern Washington County.  
The Cobscook Trails Coalition's trail map provides an overview of hiking, snowshoeing and cross-country skiing opportunities around Cobscook Bay and along the Bold Coast.  
Cobscook Bay State Park is a great base for family camping and explorations. Many of the park's 106 campsites (both for tenting and RVs) border Whiting Bay, a sheltered inlet within the larger bay. The Park offers hiking trails and access to the Edmunds Boat Launch – a public launch on Whiting Bay. 
*Strong currents – For experienced captains only. 
Services include:

(Text derived from Cobscook Bay State Park Guide & Map)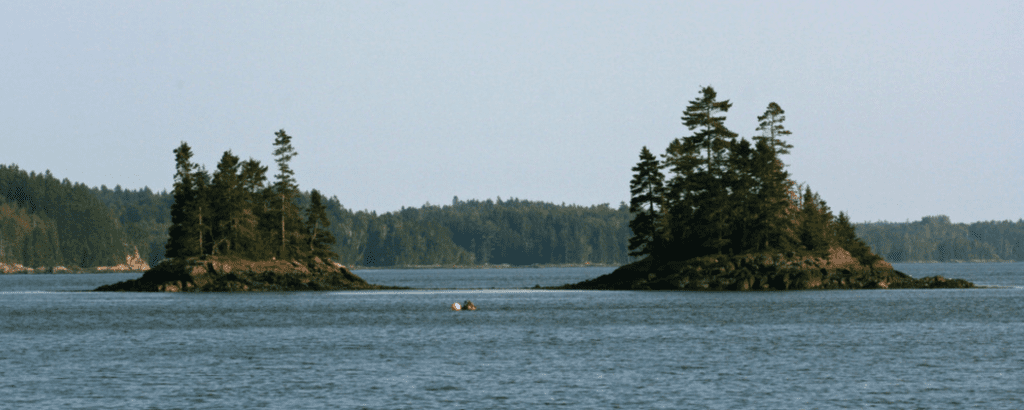 Photo Credit: Twin Islets off the Shore Trail, south of boat lauch (Credit: L. L. Wall @ Panoramio) 
The Roosevelt Campobello International Park is located on Campobello Island, New Brunswick, Canada just across the international border from Lubec on the easternmost tip of Maine. The focal point of the Park, the Franklin D. Roosevelt summer cottage, and the Park's Visitor Centre open the last Saturday in May and remain open twenty weeks. The Park grounds and Natural Area are open year-round.
Spend several hours in the Park's 1,134-hectare (2,800-acre) Natural Area, where you can explore walking trails, beaches, bogs, forest, and spectacular ocean headlands – or enjoy a picnic with an ocean or lighthouse view.
Roosevelt Campobello International Park is a singular example of international cooperation – jointly administered, staffed, and funded by the peoples of Canada and the United States. Franklin and Eleanor Roosevelt's magnificent summer home is preserved here in a combination indoor museum and outdoor nature park on Campobello Island, New Brunswick, Canada.
(Text derived from Roosevelt-Campobello International Park Overview)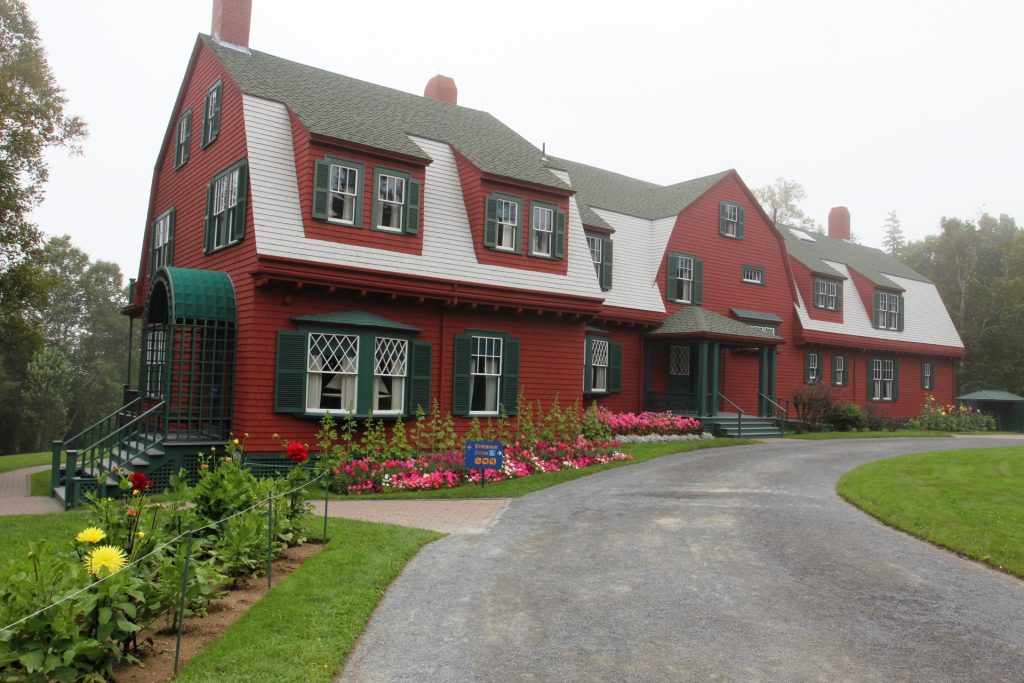 Photo Credit: TripAdvisor – Roosevelt Cottage
Quoddy Head State Park is located four miles off Maine Route 189 in Lubec on the easternmost point of land in the United States. On its 532 acres, purchased by the state in 1962, the park features 4.5 miles of hiking trails, extensive forests, two bogs, diverse habitat for rare plants, and the striking, red-and-white striped lighthouse tower of West Quoddy Head Light. With its diverse landscape, breathtaking views, scenic picnic sites, and opportunities for hiking and whale watching, Quoddy Head State Park is a fun and fascinating destination for visitors to down east Maine.
Hikers may choose from five trails that wind through forest and wetlands and offer expansive coastal views. Trails closest to the parking area allow some wheelchair access. For shore access, use the stairway near the picnic area. Please be careful near high cliffs and bluffs and be prepared for wet terrain.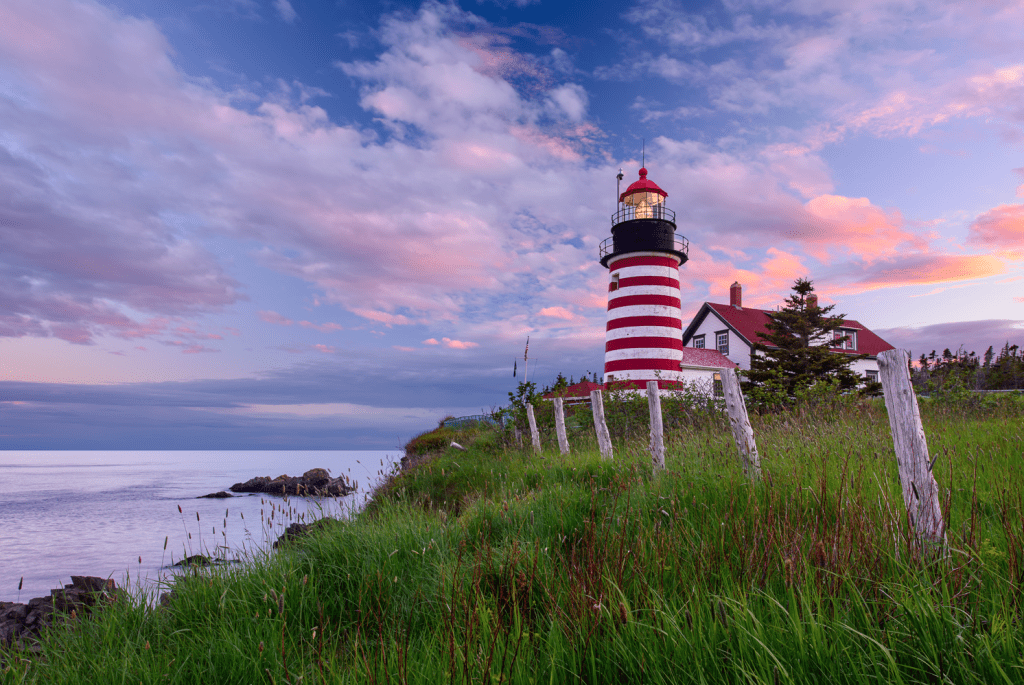 Photo Credit: Michael A Blanchette Photography
Downeast Coastal Conservancy conserves natural habitats and resources of the coastal watersheds, islands, and communities of Washington County, Maine, for present and future generations.
The Downeast Coastal Conservancy is responsible for the stewardship and protection of 6,275 acres and more than 62 miles of shoreline in Downeast Maine.
We refer to this area as the Downeast Coastal Region. It includes the watersheds of the major Downeast rivers, some of the richest estuaries on America's eastern seaboard, and numerous wild islands in the northern section of the Gulf of Maine.
The region's vast forests, abundant lakes and rivers, rugged headlands, and traditional saltwater farms offer exceptional wildlife habitat, unmatched scenic beauty and diverse opportunities for public access and recreation. The Downeast Coastal Region includes the same geographic areas and communities historically served by Great Auk Land Trust and Quoddy Regional Land Trust.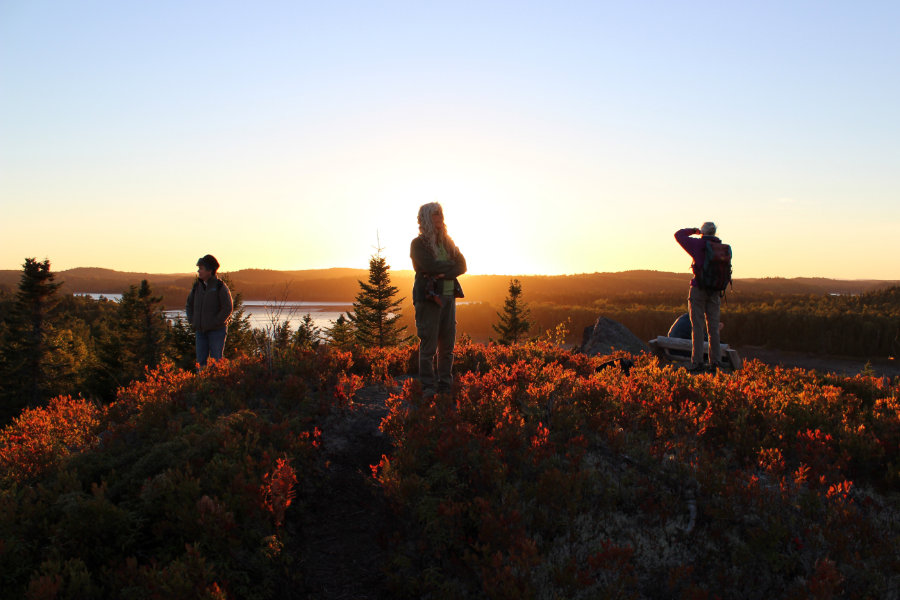 Photo Credit: Downeast Coastal Conservancy – Location: Klondike Mountain
In Maine's easternmost county, MCHT owns and manages vast and extraordinarily beautiful stretches of Bold Coast, as well as preserves in and around Cobscook Bay. You can hike trails for miles or pass an afternoon on a cobble beach, looking out for whales.  
The free and public preserves range from waterfront pocket parks to vast forests, from wild islands to community garden spaces. These special places are here for you to enjoy thanks to the generosity of thousands of donors. Thank you ahead of time for helping us keep the coast clean and beautiful!
MCHT preserves are special places managed to protect ecological diversity, scenic beauty, low impact recreation, and other community benefits. Our intent is to have them retain their natural character, with little human influence. Where trails exist they tend to be footpaths; campsites are rustic; and human amenities are generally non-existent.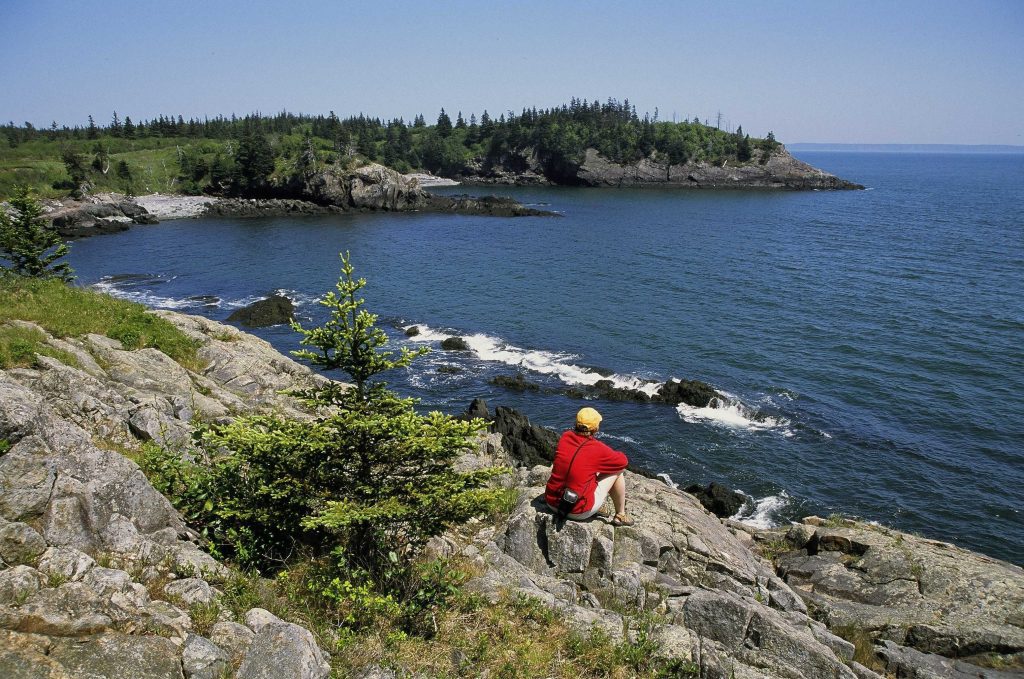 Photo Credit: Bangor Daily News – Location: Hamilton Cove Preserve, Lubec
The Lubec Historical Society strives to be a vibrant, viable, visible community organization that is recognized as the principal repository of our historic past and to be a vital participant in the understanding of the present and a prism through which to shape our future. 
For 45+ yrs. we have welcomed tourists, teachers, professors,  students, & community members to share the rich history of Lubec.
 There is an old adage – Time and Tide wait for no man and time passes quickly. Generations of Lubecer's have come and gone and with their passing we have lost their stories, their knowledge and wisdom of what made Lubec flourish.  Our community's history is lost forever – unless "YOU" help us to preserve their struggles, their life and our history.​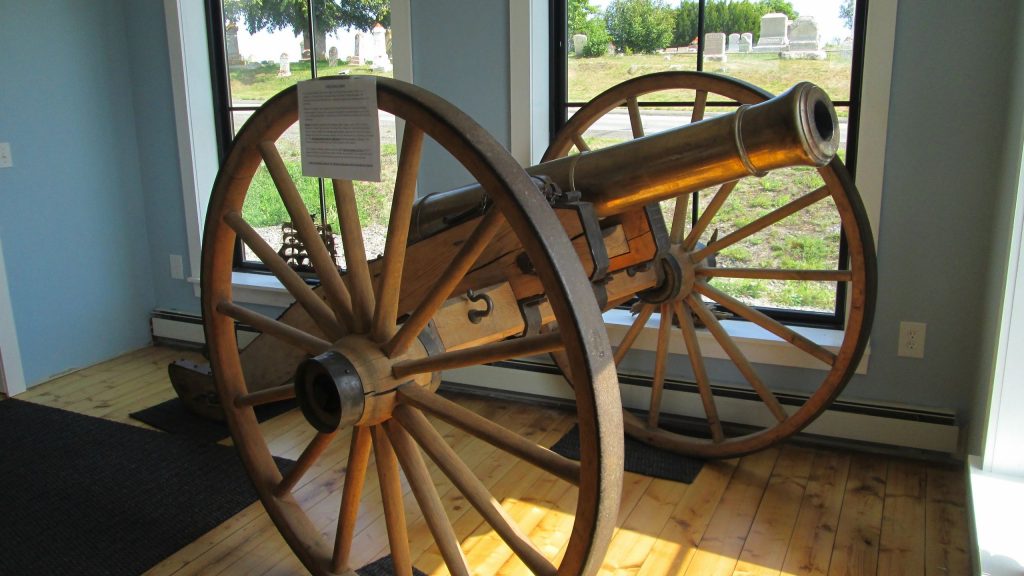 Photo Credit: Lubec Historical Society